Article in Gala of January 20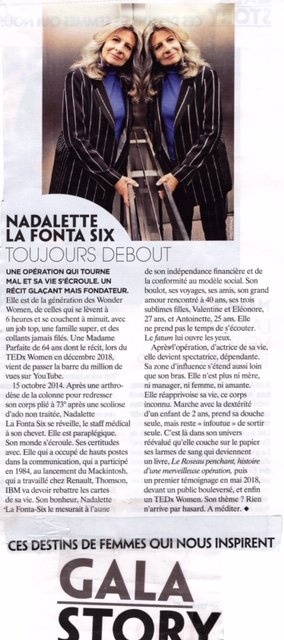 My press relations agency Edissio Public Relations has been following me since the launch of Le Roseau penchant and had just issued the press release announcing that my TEDx "Nothing happens to us by chance had exceeded one million views and was among the most viewed TEDx in French. This generates a lot of interviews
It is winter 2020 in Paris, and the house is silent.
We are Thursday evening, it is GALAthe magazine of all the news of the stars, on the phone who is interested in the subject, and Virginie PicatVirginie Picat, head of the "GALA story, these women's destinies that inspire us" section, interviewed me with her subtlety and charm.
The next day, with the photo service of GALA, we are saved by Frederic Vignale, dear friend and admirable photographer who had picked this highly metaphorical image and for him, and for me, in our past and passive with the gemellity. at the time of our peregrinations in the marvellous backstage of L'Olympia, at the Restart Awards 2019.
That day, Frédéric didn't let me down one bit in the difficulties of moving around the labyrinth of the Olympia. And backstage, he knew how to find the words to make me laugh, to calm me down and to put me behind the curtain for my entrance on stage, happy, relaxed and in shape, to meet the extraordinary Master of Ceremonies Calixte de Nigremont. Fréderic generously offered me this picture and gave it to me the next day. This Friday of January, Frederic graciously helps Gala to benefit from an excellent HD shot. Mission accomplished in 48 hours, Jack Bauer is beaten to a pulp
On January 20th, a magnificent paper was published on the newsstands, for which I am very grateful.
And a paper in GALA does not go unnoticed by girlfriends, I assure you
A beautiful interview conducted by Virginie Picat and illustrated with a photo by Frédéric Vignale